South Africa is home to vibrant cities brimming with cultures. Cape Town stands out as an irresistibly charming must-visit destination that offers breathtaking natural settings and unique experiences.
The Apartheid Museum in Johannesburg presents the tragic tale of racial segregation across South Africa. For an up close and personal view, Soweto Township provides insight into Nelson Mandela and Desmond Tutu's lives.
Cape Town
Cape Town is one of those exceptional cities that truly offers something for everyone, spanning mountaintop wilderness, beaches and vineyards – making it ideal for outdoor pursuits like hiking. Starting off each day on an enjoyable hiking trail may lead to finishing it off with gourmet dining at an award-winning restaurant or touring historic landmarks – Cape Town truly has everything.
Cape Town offers breathtaking scenery and rich history for visitors to enjoy. There are lively neighborhoods like Bo-Kaap that sit along side beach communities or the V&A Waterfront, while its galleries showcase world-class art. Additionally, this city provides an excellent place for wildlife enthusiasts with African animals such as rhinoceroses to discover and cage diving opportunities to view sharks up close.
Cape Town's crowning glory, Table Mountain, towers over its sprawling bay. Visitors can ride one of two slow-rotating cable cars up its flattop for breathtaking views and to watch boats depart for Nelson Mandela's former prison on Robben Island. Other top attractions in the area include Chapman's Peak Drive with numerous lookouts along its 15 kilometers; Boulders Beach where cute penguins reside; Chapman's Peak Drive for 15 kilometers with spectacular cliffside looksouts and lookouts along Chapman's Peak Drive as well as Zeitz MOCAA which opened this past November 17 as part of reimagined grain silo across from V&A Waterfront.
Port Elizabeth
Port Elizabeth is known as the Friendly City due to its calm atmosphere and abundance of stunning beaches, world-class hotels and landmarks, one of South Africa's premier universities, great family attractions and plenty of unique museums such as Red Location Museum which showcases both institutionalised racism's horrific legacy as well as anti-apartheid movements' achievements. A visit here should definitely be on any visitor's itinerary when in Port Elizabeth!
Donkin Heritage Trail leads visitors on an exploration of Old Hill neighbourhood's Victorian landmarks, and coastal boat tours allow guests to spot whales and rare seabirds. Addo Elephant National Park is another wildlife lover's dream with affordable DIY and guided safari options; Kragga Kamma Game Park or Van Stadens Wildflower Reserve may also appeal to nature enthusiasts.
No matter your mood or experience level, Port Elizabeth offers something for you. The beaches provide many activities ranging from swimming and surfing to legal gambling and food tasting on its Boardwalk – Summerstrand Beach stands out with its sheltered bay and sandy shoreline; and there are restaurants and cafes where you can eat, drink and unwind in peace.
Port Elizabeth offers visitors a host of vibrant festivals that transform the city into an explosion of color and sound – everything from dance parties to medieval banquets will ensure your visit to Port Elizabeth will be an unforgettable experience!
Stellenbosch
Stellenbosch, located within the Cape Winelands region just 50 minutes' drive from Cape Town, is a charming university town dotted with vineyards and mountainous nature reserves that stretch for miles around. Oak-shaded streets lined with cafes, clothing boutiques, and art galleries line its oak-lined streets – while Dutch colonial history can be seen all around – such as its Village Museum's period houses and gardens or its majestic Stellenbosch Church are sure to charm any visitor to this charming town.
An expert tour is the ideal way to discover Stellenbosch's wineries. These tours differ from self-guided drives in that they include wine tasting at various locations as well as providing in-depth commentary ensuring you don't miss any of its highlights – they may cost more, but come highly recommended.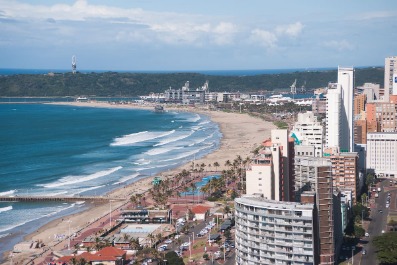 Scenic drives are a must when visiting South Africa, and Stellenbosch boasts some of the most stunning roads. Helshoogte Pass is one of the region's most beloved drives with breathtaking views of green hills, vineyards, flowers and flowers lining this renowned route connecting Stellenbosch with Franschhoek; here you'll find many top wine estates such as Tokara Delaire Graff and Villiera Wildlife Sanctuary.
Eagle Encounters is a non-profit organization focused on the rehabilitation and conservation of eagles and falcons, education locals and tourists about wildlife and its natural habitat, and providing close encounters with birds for visitors to enjoy.
False Bay
False Bay conjures images of vibrant bathing boxes at Muizenberg beach, after-dark treats in Kalk Bay restaurants and bars, and enjoying Simon's Town harbour for a day trip. But this area also provides opportunities for whale watching during season, and close by is Cape Point Reserve from Table Mountain National Park – making False Bay an unforgettable destination.
False Bay lies along its northern coastline with long sandy beaches, while its western and eastern edges consist of rugged mountains with high cliffs that were mistaken for Cape Hangklip at Africa's southwestern point (hence its name). Impenetrable fog, howling gales, submerged rocks during strong storms, lack of recognisable landmarks made False Bay even more treacherous and resulted in numerous shipwrecks.
Today, Kalk Bay Bay has become a popular swimming area due to its warm waters that are fed by the subtropical Agulhas current. Its horseshoe shape provides protection from winds, while a shark spotters' service keeps swimmers safe. Furthermore, visitors can explore various marine creatures and kelp forests by diving at Pyramid Rock/Partridge Point/Seal Island on guided scuba dives or swimming with playful seals on Seal Island – while Kalk Bay village itself also provides stunning waterfront charm and fantastic seafood restaurants!